Of course it is true. I read it on the Internet.
When State Farm starts lampooning the trustworthiness of the Internet, you know you are in trouble.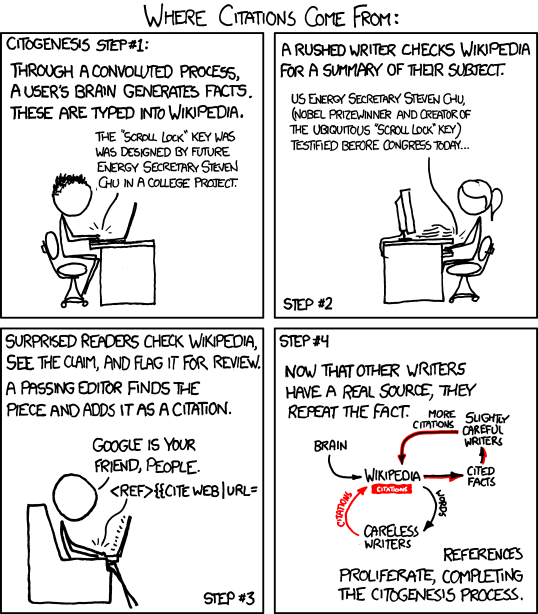 I'd like to believe that readers are savvier about information than we think. The truth is, it can be very hard to know what is truth versus what is truthy.
On every new webpage created within UTHSCSA.edu, we research to find and produce the most up-to-date information.
We call upon program directors, faculty members, student services staff and support staff as we are writing new web pages and we ask them to double-check our information. We are checking everything:  coursework and clinicials; how to pay; where to go; insurances and credit cards we accept; and double-check the processes we have listed.
"That information is on the website," is one response we frequently hear.
Sometimes it is. Sometimes it isn't. During our content research, we've found subsections of the existing website that haven't been updated in years. There are dead links and incorrect and outdated information.
Our goal is to be as accurate and complete as we can be. Content curation takes time. Sometimes pages slip between the cracks. That's a post for another day, but we know we'll be updating. Frequently.
We want the UT Health Science Center San Antonio to become the go-to resource not only information about our many programs, but also for people in South Texas seeking information they can trust about medical, dental and other conditions.
To that end, we are creating content that helps medical consumers learn more about a variety of conditions, using our own faculty to share their expertise.
To build credibility with readers, we will be doing more linking back to original sources, say, the American Dental Association, if we use their tips on brushing teeth. Letting our readers know the source of our information, whether it be a professional association, the Centers for Disease Control, or our own experts, builds trust. It shows we aren't making our information up out of thin air.
This is becoming a best practice in both the public relations and journalism industries. The Public Relations Society of America and The Pew Research Center's Journalism Project both encourage attribution for items that are not accepted facts or generally known information.
Credibility should meld a sense of trust with a sense of expertise, according to research reported within the Journal of American Science of Information and Technology. So, how do we at the Health Science Center show our trustworthiness and our expertise?
We check, double-check and triple-check our content. This means we at WebLife rely on our subject experts across the campus to vet what we say. If it is wrong, let us know.
We want to be trusted, not truthy.
---